Larry's Mom
Miloty Elizabeth (Vitosky) Wilson of DeSoto, Texas, departed this life on January 31, 2006. She was born October 20, 1922, in Kaufman, Texas, daughter of the late Joseph J. Vitosky and the late Maggie (Grych) Vitosky. Mrs. Wilson is the mother of Larry D. Wilson, Robert A. Wilson, Mary E. Parr, and the late Nancy Wilson Wittstruck. She is also survived by her sister, Betty Sneed, seven grandchildren, two great grandchildren, and two nieces.

Mrs. Wilson was a 1941 graduate of Woodrow Wilson High School in Dallas. She served in World War II as a navy WAVE. She resided for many years in Minnesota where she was a member of St. Paul's Episcopal Church of Winona and Emmanuel Episcopal Church of Rushford. She was also a member of the Winona Community Memorial Hospital Auxiliary and once ran for the Minnesota House of Representatives. She was Vice Chairman of the Fillmore County Minnesota Chapter of the American Red Cross. Mrs. Wilson returned to Dallas in 1978 where she worked as the volunteer transportation coordinator for the American Red Cross until she retired in 1989.

Mrs. Wilson was a gourmet cook, a championship bridge player, and won many awards for her quilting. She will be long remembered and missed for her tireless energy and love that she devoted to her family, friends, and activities.

In lieu of flowers, gifts in her memory are requested to be given to the Dallas Area Chapter of the American Red Cross, 4800 Harry Hines Blvd, Dallas, Texas 75235-7717.

Graveside services were held on Friday, February 3, 2006 at 1:00 PM at St. Joseph Cemetery in Ennis, Texas with the Reverend Dennis Smart officiating.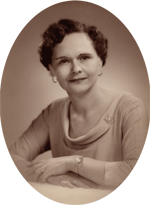 Miloty Elizabeth Wilson
1922-2006